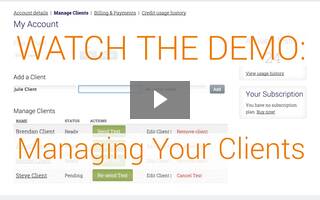 User-friendly platform lets you easily organize testing for your group
Quickly and easily send tests to all your clients
Your Client Manager organizes every step of the testing process. Start by adding a client to your list, then send them an invitation to take a test. Test invitations are sent to their email address and can be easily customized to suit your needs.
Track your clients' progress and get notified when they're done
Your Client Manager shows you all your clients and where they are in the testing process. You can see which clients you've sent a test to, and whether they've taken it or not. You can even send a reminder to clients who haven't logged in yet.
You can set notifications so that you are emailed when each client completes a test, or turn this setting off if you prefer.
View test results in just one click
When a client has completed a test, your Client Manager will display the option to view their report. You can view results online, or download and print a report.
Easy to use for large groups
For large groups, you may enable an optional setting to save yourself time and effort. Instead of setting up each client individually, simply enable your personal Client Code and you will have the option to provide your entire group with an 8-digit code and a link where they can start their test.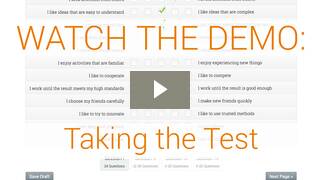 Your client's experience is simple and seamless
Your clients receive a friendly email when you invite them to a test
When you register a client, they receive a simple email with instructions to complete their test. Any client with an email address can be registered for a test.
One-click login takes your clients right to their testing page
The email contains a link that takes the client to their testing page in one click. It's simple and straightforward, even for clients who aren't tech-savvy.
Clients can view, download, and print their results
Clients complete the assessment online and are immediately shown their results. They can view them online, or download and print a PDF version.
Get started easily in just a few minutes
No training or certification requirements
Truity assessments are designed to be straightforward and easy to use. We don't require that you have special certification or a particular educational level in order to purchase. Reports are jargon-free and don't require specific training to interpret.
Purchase tests online in any amount
You can purchase tests online in any quantity you require, whether you're testing a few clients or an entire company. Larger orders receive discounted bulk pricing automatically.
Instant access to the testing platform when your purchase is completed
Once you've purchased some tests, you're ready to go! There's no wait to get your account activated. Log right in to your Client Manager and start sending tests to your clients.
Tests never expire—use whenever you need them
Take advantage of discounted bulk pricing to pre-purchase tests, and use them whenever you're ready. Once they're in your account, your tests never expire.